by Aloysius St. Bernard
Freelance Writer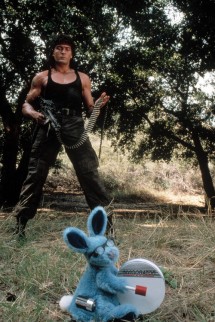 In a surprising turn of events, internationally acclaimed genomics expert Dr. David Eisenberg has confirmed claims made recently by troubled actor Charlie Sheen that he has "tiger blood" and "Adonis DNA." Eisenberg, Director of the Institute for Genomics and Proteomics at the University of California-Los Angeles (UCLA), says he was intrigued by the actor's claims, which he saw when viewing Sheen's now-notorious now-notorious interview with Jeff Rossen on NBC's "Today" show.
"All I could think, as I sat there, watching him," said Eisenberg, "Was that a claim like Mr. Sheen's, if verified, could lead to some revolutionary advances in the field of applied genomics. I had to know if it was true."
Eisenberg called Sheen's publicist, Stan Rosenfeld, after the interview, and was able to arrange for the actor to meet him at Institute, where he obtained samples of DNA and blood. It was one of the last acts Rosenfeld made on behalf of Mr. Sheen. Shortly thereafter, he issued a brief statement, reading "I have worked with Charlie Sheen for a long time and I care about him very much. However, at this time, I'm unable to work effectively as his publicist and have respectfully resigned."
Eisenberg quickly assembled a team of investigators and set out to examine the genetic materials. What they found confirmed claims that had many speculating about Sheen's sanity and provided plenty of fodder for late night talk shows (including this fake commercial featuring Jimmy Fallon) and plenty of material for celebrity gossip sites, such as TMZ and PerezHilton.Com.
Speaking off the record, a friend of the Sheen family told CronkNews that many in Hollywood had been privy to the closely-held secret of Charlie Sheen's parentage for years. "Janet [Templeton, Sheen's mother and wife of actor Martin Sheen] was hanging out with a pretty wild crowd back then," said the source. "And, well, it was the Sixties, she was an artist and people were into all kinds of things."
According to the source, Adonis and his surrogate mother/wife Aphrodite threw a rooftop orgy in honor of the changing seasons. "Adonis had been making eyes at Janet all night," he recalled, "and Aphrodite and Martin were arguing about religion because, you know, he's a devout Catholic, and was going on and on about how he didn't believe in her. Adonis saw his chance, changed into the form of a tiger and he and Janet kind of prowled off into the darkness of the rooftop garden. People heard growling, but most of us thought we were just having bad acid trips. About four months later, Charlie was born. Martin knew something was up, but he forgave Janet and raised the boy as his own."
Eisenberg consulted UCLA Professor Richard Rader, an expert on Greek Mythology, and Darren Irwin, a noted researcher on ecology and evolution at the University of British Columbia, to assist his team in placing their findings into context. Eisenberg plans to submit an article for peer review and possible publication in an upcoming edition of the Journal of Applied Genetics.
Reached at his home on Mount Olympus, Adonis declined to confirm the details of his alleged tryst with Janet Templeton and denied knowing the younger Sheen, though he admitted seeing him at Olympus in recent months in the company of two of his daughters, who have since moved to Hollywood to pursue careers in the adult film industry. "But whatever happens, I wish him luck. If I had problems like he seems to have, I would just close my eyes and fix them with the power of my mind. I am the god of rebirth and changing seasons, you know. Not everyone is as lucky."