by Seamus O'Flannery
Freelance Writer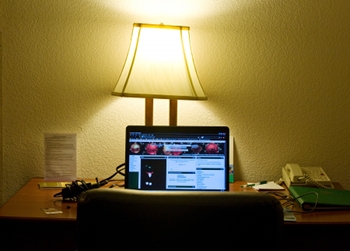 It was confirmed in a press release this week that the national higher education recruitment fair "The Placement Exchange" (TPE) will be cracking down on items institutions will be allowed give to candidates at the annual conference. This announcement comes after many complaints from smaller institutions regarding last year's TPE convention in Chicago.
"We can't afford to give flash drives, mugs and shirts to every candidate we select to interview at TPE. It's just not economical," said Randall Jones, assistant director of residence life at Southeastern A&M College. "We just want to be able to compete with everyone else. Now, candidates can be excited when they see the departmental pens in their mailboxes that we have been handing out for ten years."
The new policy states that institutions can now spend only $0.27 per candidate interviewed at The Placement Exchange. This new policy has received mixed reviews from candidates currently registered for this spring's Placement Exchange in Philadelphia. Elina Proper, hall director at Southeast State College, noted that she is happy about this change.
"I'll be job searching again this year, as I was given the wrong impression about my campus when I interviewed with them at last year's TPE. They gave me a USB flash drive and I took that as a sign that they embraced technology. Come to find out, both Twitter and Facebook are blocked on all campus computers. Departmental websites haven't been updated in years."
Registered interviewers had serious concerns about the new policy.
"We've already invested in iPods for every candidate," said one employer. "We drained money from our programming budget to make that investment. TPE just doesn't get how much we care about giving our students the best possible recruits we can."
Felix Smyth, a first-year late night programming coordinator at the University of Northwestern California, also disagreed with the change.
"Do you think I would have taken a position where I have to work past midnight on a weekend if it hadn't been for the free stuff I got when I interviewed at TPE?" he asked. "They gave me a flash drive, coffee mug, departmental pen, and a poncho! It was because of all of those items that I knew how much they wanted me to work for them. Other schools had more competent interviewers and a clearer sense of mission, but how was I to know how much they really liked me and wanted to make me happy? Stuff matters."
When asked if he had received any free items other than t-shirts and polos since beginning his full-time position, Mr. Smyth declined to comment.