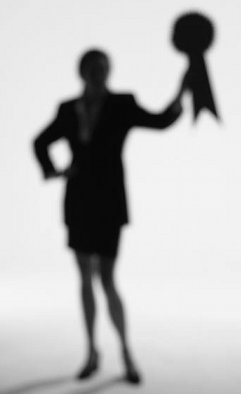 In an unprecedented display of punctuality, Assistant Director of IT Services Wanda Sternbloom arrived on time to accept her 25 Years of Service Excellence Award, along with a $100 gift card, last Tuesday.
"It was amazing to see her walk in on time," said Sternbloom's colleague Jeff Cranson. "Our boss has hinted around for years that Wanda should try to be more dependable but it's really terrific that she turned her performance around at a time when everyone could see her transformation."
According to IT Office Manager Darly Muncy, "Wanda has never turned in paperwork on time for me, and the staff who depend on Wanda to fix their computers say she's never dependable. I was afraid she would miss the deadline for submitting her award acceptance but she was the first one to complete the form. It was very exciting and the change couldn't have happened at a better time for her."
"Wanda has been a nightmare when it comes to time management but the award committee must have seen that a change was coming," said another IT assistant. "They must have been right. Wanda and I are on a committee together and she's supposed to be writing the report. I'm excited to know she'll have it ready by the deadline this time."
"I've always done extra work in our office because Wanda tends to show up at meetings after all the tasks have already been delegated," said colleague Mark Wingate. "Most people in our office never make it to the 25-year mark because they're so burned out, but Wanda's award has really shown us that she's a team player. I can't wait for our next staff meeting!"
Sternbloom was called for a comment but did not respond in time to meet our press deadline.