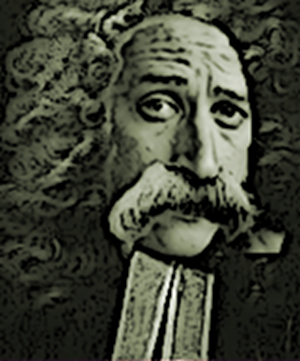 No joke.
The fake journalists at the phony higher ed news magazine The Cronk of Higher Education couldn't believe there was no official day, week or month dedicated to the high art of irony and have jumped into action.
"It's unacceptable to ignore satire!" said Cronk senior writer Irma Pelt. "But also predictable. As the official intellectual voice of reason and honesty, we humorists aren't always welcome at the table of mortals."
The Cronk gang says November was an obvious choice for the celebration, citing the birthdays of notable satirists Jon Stewart, PJ O'Rourke, Mark Twain and Jonathan Swift.
"We want to celebrate great achievements in satire, but also cultivate new voices that may emerge from universities, high schools or cleverly-graffitied public rest rooms," explained Cronk editor-in-Chief Leah Wescott. "We also want to focus on educators, who are in a perfect role modeling position. The ability to laugh at ourselves shows an awareness that honest reflection is easier with a dose of levity. We'll use November to fill you up with humor and at the end you can all give thanks and anesthetize yourselves with tryptophan."
"Educators and journalists, both real and fictional, can make this happen," said Cronk senior writer Brody Truce. "Teachers can assign satirical reading and writing in classes, administrators can talk about a particularly cutting piece of satire with colleagues, and campus newspapers can feature cleverly crafted humor to shed light on current events."
"Everyone can try their hand at submitting stories from their own point of view for publications like The Cronk," added Pelt. "Lord knows there's plenty of material to choose from at our schools."
What can you do for Satire Month?
Create assignments and conversations for classes
Make sure your library has a display celebrating satire
Bookmark the Satire Month website and add resources to the wiki.
Contribute submissions to a newspaper, literary magazine, blog or (our favorite) The Cronk
Add the National Satire Month event to your Facebook.
Follow @NatSatMo on Twitter and use the Twitter hashtag #NatSatMo to share your favorite satire-related links, quotes and ideas
Encourage smart, snarky leaders to find a voice through humor
Let us know what you plan so we can celebrate YOU.
Join us on Twitter: http://twitter.com/NatSatM​o
Sign up to join the movement at Facebook
Become a volunteer: NationalSatireMonth@gmail.com
Share your expertise and resources at our Satire Month wiki