by Con Chapman
Lifestyle Reporter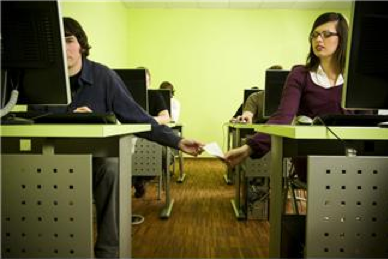 CHILLICOTHE, Ohio. It's closing time in the library at Waldmore University's Kagler School of Business as Hayden Morton walks to the entrance on his way to Moynihan's Pub, a popular watering hole among b-school students.
"Hang on guys," Morton says to his friends. "I've got to throw something away so it doesn't set off the metal detectors."
With that Morton fishes in his shirt pocket and pulls out a razor blade that he drops into a wastepaper basket.
"You shaved to go out with us?" Tony Alfano, a first-year student from Chicago asks incredulously.
"No–that's what I use to cut research for case studies out of journals," Morton replies. "I figure—I discovered the stuff, it's my intellectual property!" Morton says as a security guard makes a check of his briefcase to make sure he hasn't stolen any toner cartridges.
Later, after the business majors have downed a few beers, they express concern bordering on outrage at the failure of graduate students in other disciplines to keep up with their productivity when it comes to cheating.
"Those guys in the med school and the MFA programs aren't pulling their weight," says Scott Oliver, who already has a job offer from a consulting firm. "The law school brings the average up, but we're not even in the top twenty in the AP Division I dishonesty poll."
The drop-off in cheating from business schools to the humanities departments of colleges can be traced to different incentives, says Jolie Quintana, a professor of romance languages at Widmer College in Illinois. "The top graduate from our French program will make $27,000 her first year out," she notes. "The lowest-ranking will make $22,000, so what's the point?"
Underachieving MBAs, by contrast, are faced with much grimmer prospects than fellow students who graduate with honors.
"If you're at the top of the class, you can expect to make a million dollars at your first job," says Professor Paul Warburg. "Losers in the lower quintile will have to settle for poverty wages of half a mill, with steep $10 co-pays on their dental plans."
MBA students say cheating is essential if America is to maintain its reputation as an incubator of cutting-edge forms of fraud.
"Charles Ponzi sold discounted postage stamps," says Morton as he takes a seat for his History of Business Chicanery 101 class. "Bernie Madoff defrauded a lot of people using 21st century technology and he didn't outsource the work to India."