by Diana Senechal
Freelance Writer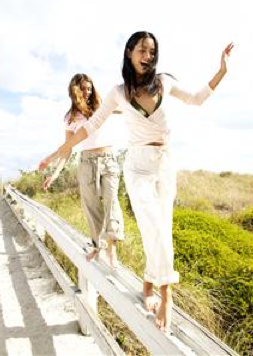 Dayton, Ohio—Research has shown that everyone needs a posse to succeed. In response to this discovery, Tolpa College has spent $20 million on Posses for All, a national program that seeks to equip every undergraduate with a fan base of 30 real-life people and at least 5,000 virtual connections, all of them slim, glib, and limber.
"We want to see everyone moving in groups," said Martha Findfine, president of the Tolpa chapter of PFA. "And we mean moving. A kid walking alone or slowly is a setup for failure. You've got to wow people with your crowd and speed." As for virtual connections, 3,000 was far too few, she said. "As a college student you have too many decisions to make. You need people out there to give you opinions on anything you're unsure of. Research has shown that peer opinions are much more influential than expert opinions. When they come through your handheld device, they're that much more powerful. It's like an adrenaline shot or something."
Because the PFA philosophy contradicts Immanuel Kant's assertion that humans should be treated as ends in themselves, Tolpa has eliminated its philosophy department.
"We need a unified vision and mission," said Ted Denknicht, a student posse organizer and PFA intern. "If students get mixed messages about what friends are for, they won't act like true believers. The posse is there to help them get ahead. It works when everyone does it. People are supposed to be used. Humanism be damned. I mean seriously. We've been slow for long enough."
"I miss having the old sort of friend," lamented sophomore Grace Grust, "the friend I shared secrets with and went off on adventures with. I miss philosophy class too."
"We're in the future now," retorted Sam Shade, a member of her posse. "Almost in the future, anyway. No more best buddies. That's understood from grade school on up. Schools and school counselors are telling kids they shouldn't have best friends. That way, they already have a group mentality when they get here. And philosophy? Pfff. It's a good thing it's gone. How dead can you get, anyway? That's a good example of a philosophical question that's no longer needed when the dead thing is gone."
Asked whether the posse should have any ethics code, Findfine replied that it all depended on the fashion. "You know, a movie with lots of casual swearing might come out, and then swearing is in for a while," she said. "We want posses that know what's popular and possessible, because that's what'll get our kids into jobs and marriages." To that end, PFA has teamed up with advertising agencies. "We give the kids some free stuff, and then they go out in their posses and promote it. It's a great opportunity for all."
One great thing about posses, adds Denknicht, is that they make room for physical exercise. "We don't want people just walking together," he said. "We up the ante, so to speak. We throw in some hip-hop. Some drum and bass. Some batacha. The posse members have to be able to jump and kick and twist. If they can't they shouldn't be in college in the first place because they won't look good in the videos and the college will go down the f**king tubes."
"Damn straight," said Shade. "On the upside, if they look and move the way they should then we're on the up-and-up."