by Matthew Michael
Freelance Writer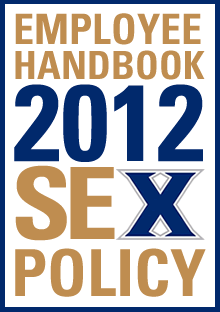 In the midst of political debate over the federal government's ability to require religious employers to provide insurance for contraception, Xavier University, a Jesuit institution, has decided to drop contraception coverage from its employee health plan.
"I had no idea we even employed sluts who would need this kind of coverage," said Fr. Graham Michaels, S. J., president of Xavier.
"The Holy and Infallible Father is clear in his teachings on this matter," added Michaels. "Sex is only for married persons pursuing procreation. Contraception is only for sexual deviants."
In addition to the insurance policy change, Michaels has ordered Xavier's Human Resources office to develop a sexual background check for all new hires and current employees. This will involve a polygraphed interview regarding the employee's sexual practices. The interview will be required for all employees and employment candidates who are married and have fewer than four children.
Michaels responded to complaints that this new sex policy is discriminatory.
"Catholic couples with four or more children can be presumed to be following the pally-approved pull-and-pray form of family planning. If it's papally-approved it can't be wrong and therefore can't be discriminatory."
In unrelated news, Xavier announced this week that Rick Santorum will speak and Rush Limbaugh will receive an honorary doctorate at Xavier's May commencement.