by Con Chapman
Lifestyles Editor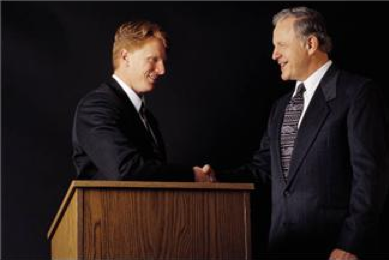 BOSTON.  Mark Cseko has been an Assistant Dean, a Dean of Students and a Dean of Academic Affairs in his fifteen-year academic career.  "I'm pretty much deaned-out," he says with an air of frustration.  "Nothing wrong with being decanal," he says, using the obscure adjective that means "of or relating to deans or deanery," "but I'd like to be a college president someday."
And so Cseko will spend a week at Thoreau University in the suburbs west of Boston at an intensive College President Boot Camp "learning the ropes of the highest rung of the academic ladder," says Executive Director Carl Schorz, mixing metaphors as he shakes hands with incoming students.
After nametags are applied to lapels and participants have picked up coffee and pastries and taken their seats, Schorz takesis place behind a podium in the survey class-size auditorium and begins his remarks.
"What we're going to do over the next few days is teach you how to think like a college president," he says. "I know that may seem odd to those of you who believe that you're allowed to stop thinking once you've become president, but that's just a figure of speech."
There are a few nervous laughs around the room but the majority of the participants, who have paid a sum in the low four figures to attend, remain silent and furiously take notes out of fear that a stray board of trustees may walk past the auditorium doors and see their frivolous side.
"What . . . is the job of a college president?" Schorz says, throwing out a question he hopes will inspire a Socratic-style dialogue. "Somebody . . . anybody?"
The collected brains of the attendees freeze, vapor-lock style, as they are suddenly cast back into the uncomfortable role of students.
"You," Schorz says finally when the silence becomes unbearable, singling out Cseko.
"Um . . . to lead an institution of higher learning?" the thrice-passed-over administrator says nervously.
"Not quite," Schorz replies. "Anybody else?"
Talia Herzog, a Dean of Student Life at Collier College, a Southern women's school, nervously raises her hand and is called upon.
"To inspire young people to seek and achieve the means for self-fulfillment and actualization of their innate if as-yet undeveloped talents?" she offers, drawing nods of approval from less-accomplished academic jargonizers in the audience.
"Good, but not les mots juste," Schorz, a former Flaubert scholar, says.
Again the room falls silent, and Schorz is cast back upon his own erudition. "In the words of Clark Kerr, one of the great college presidents of all time, the job of a university president is to provide football for the alumni, parking for the faculty and sex for the undergraduates."