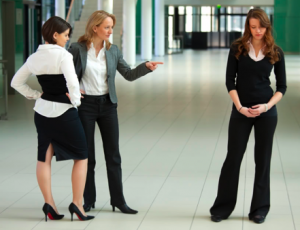 "We're going green!" says a huge plastic banner that hangs above the housing office at Burton University. Staff at BU are touting themselves the first in the country to use a completely paperless housing system after opening.
"Don't even think about asking us for a room change," said housing director Mack Janssen. "Once you're in, you're in to stay. It's better for the earth that way and our staff can get a lot more done, too."
According to the minutes from last year's housing meetings, staff complained about having to manage student roommate conflicts.
"Their petty arguments drive me up the wall," said one office manager. "They don't realize I have to deal with key requests, furniture inventory forms and other paperwork just because they've been 'threatened by sociopathic roommates' or 'puked on in the middle of the night.' Now I can finally say, 'What kind of a person are you? Don't you care about the environment?' It's better for the earth that way. No forms to fill out."
Students from the BU Earth Action Now! club have embraced and endorsed the new policy.
"Since we're upperclassmen now, we can opt for single rooms," said the club's president Eric. "The new policy shows that BU is finding innovative ways to honor students' seniority as they progress through their higher learning."