Graphic: Remember when our RA bought us cookie cake…?

by Brody Truce
Senior Staff Writer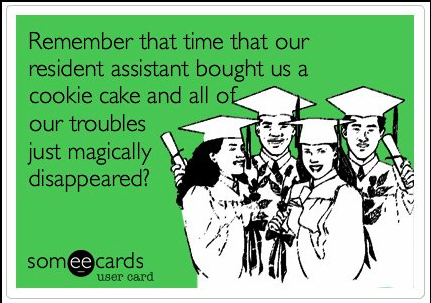 Follow Brody Truce on Twitter
http://twitter.com/BrodyTruce

Related Articles

by Brody K. Truce Senior Staff Writer With fall semester more than halfway over, college students across the country look forward to Thanksgiving break. "It'll be nice to sleep in for a few days—my 8 a.m. classes are kicking my butt," explained Jacob Morrow, a first-year student at Eastern Maryland College. "I'm looking forward to […]

by Aloysius St. Bernard Freelance Writer In a surprising turn of events, internationally acclaimed genomics expert Dr. David Eisenberg has confirmed claims made recently by troubled actor Charlie Sheen that he has "tiger blood" and "Adonis DNA." Eisenberg, Director of the Institute for Genomics and Proteomics at the University of California-Los Angeles (UCLA), says he […]

Write your own headline. Submit by comment, Twitter @CronkNews, Tumblr, Pinterest or anyplace else you can use the hashtag #CronkDIY. Winners chosen weekly.