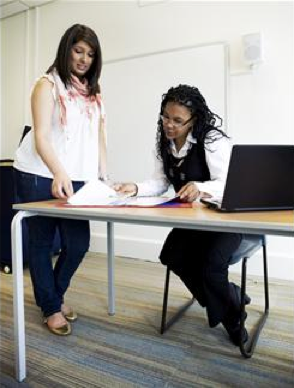 True to practice, Buchanan College opened its doors this fall with 30 percent of teaching jobs filled by adjunct instructors.
"This year, however, we think we've found a way to address our chronic budget woes while holding our instructional staff more accountable than ever for excellent practice," said Vice President of Academic Affairs Geraldine Winslow.
According to BC's new strategic plan, all adjunct staff will be hired on day-to-day contracts.
"Prior to this innovation, Buchanan hired our non-faculty instructors for full semesters – or even full academic years," said Winslow. "It's incredible that we got away with such irresponsible practices for so long."
New adjuncts will now be hired for one-day terms, renewable at the end of each business day.
"Adjuncts who wish to continue their employment can reapply as many times as they want, submitting student evaluations, supervisor reviews and a brief three-page essay about their philosophy of teaching," said Maxine Kingsley, chair of faculty senate. "We will carefully review each application and hire back only our finest applicants. Our students deserve the best instructors and we're confident no other institution in the country can claim a more thorough selection process."
Reactions from adjunct teachers has been mixed, but quiet.
"I'm a little concerned about being able to pay my bills and feed my family," said one anonymous instructor while looking over his shoulder. "But I'm a team player and I'll do and say whatever I have to if it helps me keep my job one more day."
"One of my colleagues asked a question about fairness and basic humanity at the meeting where the announcement was made yesterday," said another adjunct. "I wanted to find out what answer she received but I haven't seen her on campus today."