by Dr. Bob Schvinsky
Freelance Writer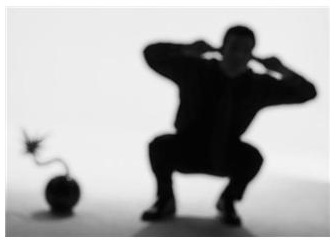 North-by-North-North-East College's North-Western campus located in the absolute barren wilderness of Canada's far north is excited to announce that, as a fortunate result of last week's false-alarm bomb scare, the NbNNE's Bomb Pool is still open for business.
Dr. Dick Farsight PhD, one of NbNNE's staff members who preferred to remain anonymous, explained that NbNNE staff got together in the spirit of holiday cheer to set up the NbNNE Bomb Pool. "It's similar to a baby pool, where we all guess the birth date and sex of a baby, only we try to guess the day and [campus] building of the next bomb threat!" The pool will donate half the profits to the Student Food Bank. The idea has taken off like hotcakes.
"It's lots of fun," stated Betty Boobabob. "The first date I selected, nothing happened so I simply selected another day! The pool's bigger than ever now!"
NbNNW management has decided not to unnecessarily burden staff by informing them of these bomb threats. Unfortunately a local newspaper short-circuited this kindness by posting the bomb threats on their website. The local police force confirmed eight different threats in an open letter taped to the College's exterior doors. [Note – NbNNE corporate communication standards preclude communicating negative news via e-mail.]
Given that employees were apparently completely unaware of these additional threats, morale was admittedly affected. According to Mr. Stanley Tresbeau, senior vice president of communications, "With staff concerns increasing, an unfortunate trend of uncertainty and, dare I say, fear, began to permeate our fine institution and undermine our corporate educational goal of absolute excellence."
"The press is trying to create something out of nothing," said NbNNE's President of Presidents Gavin Willis. "Of course we were going to tell staff…as soon as we caught the lousy rascals responsible. Why worry people needlessly?"
When questioned on whether a better-informed staff might offer assistance, perhaps by vigorously watching for suspicious objects, Ms. Bugs O'Bunny, CEO HR indicated that the College would post and ad for an instructor to teach a three-day Suspicious Objects in your Office Environment course sometime next week, if nothing more urgent happened.
For now, the NbNNE pool has helped bring a sense of levity to this confusing situation.
"The pool is still open," said Farsight. "Select your favorite day and building on http://www.NbNNEbomb_pool.ca."
"In the meantime, we're talking to our lawyers," said President Willis. "We're hoping to sue local authorities for scaring our poor staff. Reporters are vultures, trying to deflect focus from our educational mission."