by Yremia Johnson
Freelance Writer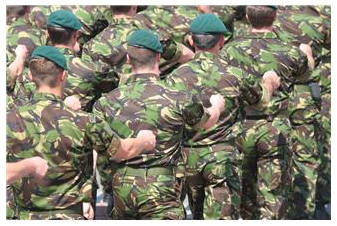 After repeatedly hearing from prospective employers and university officials that their skills could not easily relate to the civilian world, a group of young veterans staged a coup of Patriot University on Monday.
According to initial reports from local journalist Wendy Bluster, "250 soldiers armed with teargas, AK-47s, and possibly air support used advanced urban warfare techniques to infiltrate administrative strongholds and wrest control of the university from Chancellor Anne Vectiffe." Bluster reported the story from a secure bunker beneath the Channel 7 news headquarters.

Eyewitness accounts from students completely contradicted the reporter's story. Multiple sources now confirm that veterans were democratically nominated for leadership positions after demonstrating a willingness to do the jobs so many campus staff were simply too lazy or disinterested to actually apply themselves to.
According to Management Studies student Troy Waverly, "Once the veterans were allowed to take over administrative processes, wait times to see an advisor were cut in half, turnaround time of financial aid paperwork was cut in half and email inboxes campus-wide remain empty due to quick responses to inquiries."
After demonstrating their ability to master entry level positions the elevation of veterans to senior leadership positions seemed natural. Former Vice Chancellor of Human Resources Daria Hemmings said, "With all the talk about competency-based education over the past few years, it was amazing to see competency actually put into action on this campus."
Staff Sargeant Hardy Fast expressed surprise at how easily he was able to simultaneously take over the jobs of four separate program directors. "I thought the military administration was inefficiently bureaucratic, but it just doesn't compare to higher education. Both organizations have a lot of paperwork, but the military people are held accountable when they don't do it."
"While accountability has been a buzz word in academia for years, no one has bothered to figure out what it means or how to apply it," said Vectiffe. "Our veteran students are demonstrating the principle in action, and they are also mentoring longtime staff members."
"I didn't even realize they were veterans," said Peace Studies student Sally Sweet. "They were just nice men and women who went out of their way to help other students. I mean in I was in a mess of a queue for over an hour at the campus book store and kept getting pushed to the back by bigger students. One of the veterans walked up the cashier and showed him how to get people into a line. It was like finally someone on campus realized I wasn't strong enough to protect myself, and had the courage to help me."