by Brody K. Truce
Senior Head Writer Emeritus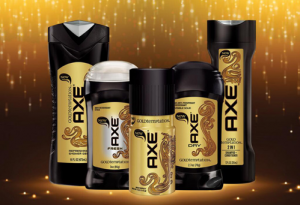 "It started with just one spray," recalls Jordan Mendez, a first year student living in Carter College's Howe Hall. "It seemed so innocent, but now, here we are four weeks later."
And where they are is the middle of a four-week cloud of Axe Body Spray that has sent at least three residents to the emergency room for asthma-related conditions and has allegedly resulted nearly half a dozen residence hall transfers.
Carter College's Office of Student Conduct has traced the incident to back-to-school move-in kits that included samples of Axe Body Spray's "Gold Temptation." According to reports, rumors circulated that the scent was particularly irresistible to the cheerleading squad.
"I remember a bunch of us trying it together in someone's room," said first-year biology student Kevin Dulmann of the aerosol-based body spray. "Just a little bit at first. Before we realized it, some of us were spraying it all over ourselves. The smell was like an inescapable cloud."
And the cloud hasn't dissipated since. Residents in buildings up to 750 feet away have reported smelling traces of the cloud—particularly on days when prevailing trade winds exceed 10 mph.
"We've lost so many good people," said resident assistant Calvin Peals. To date, five students have transferred to other residences halls, all citing concerns about the Axe cloud or providing documentation of aggravated allergic rhinitis. Requests for air conditioners and other air filtration systems have increased by 124 percent over previous years.
Campus officials have recalled all move-in kits and have expressly forbidden the use of aerosol-based fragrances on school grounds. In the meantime, the college reports that appropriate safety gear, including surgical masks and respirators, have been made available to resident assistants required to make rounds through the building to check on residents and visiting guests.