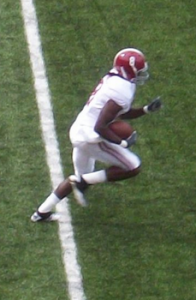 Sports journalists cheered yesterday when NCAA President Mark Emmert announced the results of Thursday's vote to turn college football into an individual sport.
"In a vote of 32 to one with one abstention, the NCAA has overwhelmingly shown its responsiveness to changes in today's culture," said Emmert. "Starting in three years, teams will consist of one hundred players who each specialize in their position."
The move followed years of lobbying from concerned parents who were devastated to watch their students unfairly punished by the team aspect of the game.
"Tommy is the best running back in our town's history," said Madeline McCoy, one of the mothers who threatened to join a class action suit to individualize the sport. "In high school, they handed him the ball on every play. Then he went to college and he only got about 30 touches per game. When the draft came, he wasn't even considered."
"My son can catch 60-yard throws 99 out of 100 times at practice," said Jerrison Smith, who coached his son in high school and serves as his agent. "Still, you put him out on the field with another guy – sometimes two – defending him and he loses his confidence. It's not that he can't catch it. He just needs a fair chance without all the distractions."
In three years, the NCAA will change the format of its games to match the NFL combine, which measures athletes' individual abilities.
"Quarterbacks will have five minutes to throw as many balls through a tire as they can and then run through an obstacle course," said Emmert. "Linebackers will push sleds weighed down with crash test dummies to see how well they can block. Running backs will compete in a 100-meter sprint – one at a time, of course."
At the end of each game, every player will receive a trophy.
NFL commissioner Roger Goodell approves of the change.
"We've found the combine incredibly helpful to the draft process," said Goodell.
Does performance in the obstacle courses indicate success probability among professionals?
"Oh no. That's ridiculous," said Goodell. "I meant that we make a lot of money from the extra-long television broadcasts. And no concussions, of course."