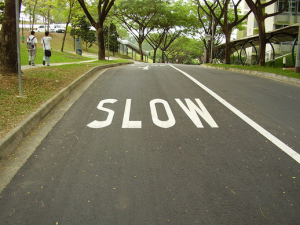 Staglen College President Alberto Swanson reassured faculty on Tuesday that he would never let the college "go corporate."
In response to concerns raised by faculty senate related to recent expenditures on marketing and new building construction, Swanson spoke directly to the senate to reassert his values.
"I see that I got off course when I raised funds to build a creativity incubator," said Swanson. "Innovation is not part of our core mission of service and I deeply appreciate your willingness to hold me accountable."
In a proposal drafted by the chairs of all 35 academic departments at Staglen, the president would now be expected to follow a strict 22-step process in order to gain approval for any new idea.
"Agility is so important in education, and I showed I was trying to skip steps," said Swanson. "Navigating a prudent process is what leadership is all about."
"The president was trying to show off how nimble he is at recognizing opportunities and acting quickly to meet the needs of our students," said faculty senate chair Maggie Bartley. "He was acting like Google or Apple – trying to make creativity and empowerment more important than the faculty. That sort of corporate mentality is what's hurting higher education nationally."
"The next item of business on our agenda," said Bartley after President Swanson finished his presentation, "is the proposal to build a walk-in closets and Imax theater in the dorms. Our admissions numbers are dwindling and if we don't make bold moves we'll never be able to compete with Swarthmore."